http://ww.merrellinstitute.com/uspapclass.htm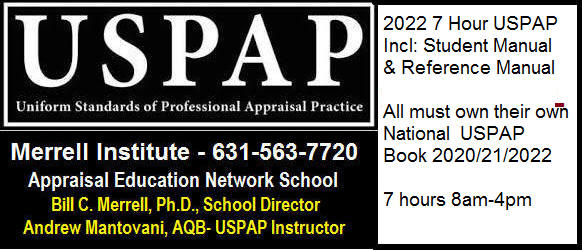 MAY 21, 2023 FROM 8AM TO 3:30PM VIA WEBEX WITH ANDY MANTOVANI, AQB.

$175.00 Including Student USPAP Manual & 2022 USPAP REFERENCE MANUAL

The Course will include 2 Manuals- The 2022 USPAP Student Manual, and the 2022 USPAP REFERENCE MANUAL TO LOOK UP YOUR USPAP REFERENCE RELATED QUESTIONS.

$ 105 VALUE INCLUDING SHIPPING & SALES TAX INCLUDED IN $ 185.00 TUITION FEE

All Students Must Bring the National USPAP Manual

(www.appraisalfoundation.org)

$ 185 alone or as part of the 28 hours Mandatory CE in NYS

Combo Program $ 800.00 Including Energy/Environmental Class and Fair Housing Class!!!

This means Your USPAP Class is Only $ 125.00 When You Pay $ 800 Total !

"Andy Mantovani AQB, Says, Hello and He hopes to see you in class!"

IF YOU WISH TO TAKE THE COURSE ON-LINE, GO TO:

HTTP://WWW.MERRELLINSTITUTE.FASTCLASS.COM

"7 Hour USPAP Day Seminar: 8am to 4pm"

"7 Hour USPAP Program" w/ Andrew Mantovani, CDEI, CFI, CfeeA

go to www.merrellinstitute.com go to www.facebook.com/merrellinstitute

Call us at 631-563-7720 ~ Our last program was Wonderful !

Our Classes have been a Wonderful ! Ask Our Students ! See You Soon !

Take the "7 hour National USPAP Seminar" No Refunds Permitted !

for your Continuing Education Requirements ~ License or Certification as an Appraiser in NYS

THE 7 HOUR USPAP CLASS PRICE HAS BEEN DISCOUNTED, Especially for you !

$ 185.00 which Includes the National Student Manual, Reference Manual, Handouts,

NYS Certificate and the USPAP Answer Key to be handed out in class

You are responsible for purchasing the National USPAP Manual: www.appraisalfoundation.org

We provide the Student USPAP Manual (WHICH WE PAY FOR) as part of the course itself. You will also receive, from us,

the answer keys for the student workbook with your USPAP, 7 Hour Nationally Approved USPAP Certificate.

YOU ARE TO BRING THE NATIONAL USPAP BOOK or PDF VERSION WITH LAPTOP

We are so confident about our USPAP Class taught by Andy, we guarantee you will learn and expand your knowledge during this 7 hour seminar

7 Hour USPAP "1 Day" Seminar: 8am to 4pm

take me back to www.merrellinstitute.com

If you cannot attend this class, you can always attend our online class at

Click Here For www.CalypsoEDU.com, which Merrell Institute is directly affiliated with and get 10% off Code: MERRELLEDU

Calypso Continuing Education TM

Better education makes better professionals.

Calypso is the best value in online professional education

CALYPSO EDUCATION IS A PREMIERE ONLINE APPRAISAL EDUCATION SCHOOL

http://www.merrellinstitute.com/calypsoedu.html

remember- to get 10% off, simply us the code MERRELLEDU

~ Sign Up With Us Today By Calling 631-563-7720 ~

We care about your Educational Needs & Prove It Every Day in Every Class!