OUR SCHOOL IS NATIONALLY ACCREDITED BY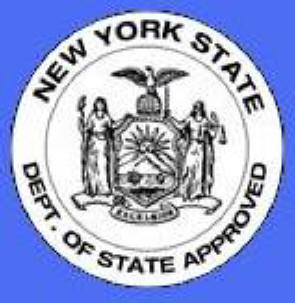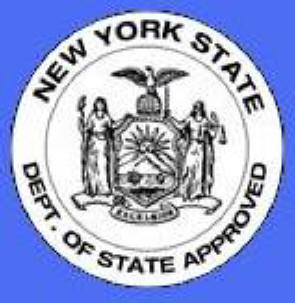 The Housing Inspection Foundation & The Association of Construction Inspectors Approved and Accredited - NYS Dept. of State Licensed Program
Joe Garcia, CEI, is the Home Inspection Administrator, a seasoned home inspector, and a tenured professor who teaches for our school. Bill Merrell, Ph.D., co-teaches the Module 1, 2, 3 and 4 programs. Other Schools have attempted to unethically use our proprietary manuals, handouts and books to try to compete with us! We are so far ahead of each school with Smart Boards, dozens of props to use in class, with a Low student to teacher ratio and a program that is complete within 2-3 months.
You have a choice of taking the NYS EXAM or the NHIE EXAM. WE RECOMMEND THE NYS EXAM !
<![if !vml]>

<![endif]>

<![if !vml]>

<![endif]>
"May 23, 2022 Start Date"
Our New Program is Scheduled for May 23, 2022 (Monday Evening @ 6pm)
"As per The American Society of Home Inspectors-A.S.H.I.",
With Licensed Training ~ Start A Career in Home Inspection- You could Average $ 76,000- $ 88,000 Annually Full-Time with Advertising!"
http://www.licensedhomeinspectionschool.com
WE ARE THE FIRST APPROVED HOME INSPECTION SCHOOL ON LONG ISLAND ! We are proud of our Graduates !
Need flexibility or payment arrangements? Call Bill C. Merrell, Ph.D. We can work to meet your needs and NYS state guidelines. We desire to work with you and want you to be a successful inspector. Cooperation is a two way street. We expect students to be ready to learn, be respectful, and we will do what we can to help you succeed. 90% attendance is required in Module 1, 2, 3 and 4
Home Inspection Licensing Program - SIGN UP WITH A $ 500.00 Deposit to the School 631-563-7720
Modules 1, 2, 3 and 4 are $ 495.00 per class plus $ 500.00 for materials, books and handouts.
We Discount the Class Cost Significantly When You Attend All 4 or 5 Modules With Us.
Modules 1-5 is Discounted to $ 1,995.00 - SAVING YOU THOUSANDS $$
Modules 1, 2, 3, 4: $ 1495.00- Discounted program.
Modules 1,2,3,4,5: $ 1,995.00 Discounted program.
Licensed Home Inspection 140 Hour Program - Classroom Course:
http://www.licensedhomeinspectionschool.com
Home Inspection Licensing will begin Monday, May 23, 2022 at 6:00pm at School
Module 1: May 23, 24, 25, 26, June 1, 2 (all 6 classes 6pm-10:30pm-final on 6/2)

Module 2: June 6, 7, 8, 9, (6pm-10:30pm) Saturday June 11 (8am-2pm-final on 6/11)

Module 3: June 13, 14, 15, 16 (6pm-10:30pm) Saturday June 18 (8am-2pm-final on 6/18)

Module 4: June 20, 21, 22, 23, 27, 28 (6pm-10:30pm-final on 6/28)

Advanced Report Writing Class 6/29 (6-10pm) $ 400.00 Value-No Charge for enrolled students!

Module 5: Begins on or about July 9; 5 Saturdays or Sundays; 8 hours per day-40 hours-

Final Dates to be determined by the students & Proctor for Module 5
Sign Up with a $ 500.00 Deposit Payment Schedule can be arranged to help our students pay for the program
MODULE 5: 40 hours typically on Saturdays to be determined by students and the Instructor-Proctor for Module 5
Module 5 Class will be Proctored by A NYS Licensed Home Inspector. Contact NYS at (518) 474-4429 for State Exam Dates !
School Program located at 1461-16 Lakeland Avenue, Bohemia, NY 11716
All that is needed is a $ 500.00 Deposit when you Sign Up for the 140 Hour Home Inspection Program
Balance or Installment Arrangement to be paid when you pick up your books!
If You Need Installment Payments, speak with Dr. Merrell when you register
Modules 1-4: $ 1,495.00 Discounted Price -or- Modules 1-5: $ 1,995.00 Discounted Price
~ (a) Heating System ~ (b) Cooling System ~ (c) Plumbing System ~ (d) Electrical System ~ (e) Structural Components ~
No Experience is necessary to become a Home Inspector in NYS. All you need is a High School Diploma and the ability
to type on a computer in Microsoft Word- Similar to the typing you do in text and via e-mails.
Program takes approximately 2 to 3 months to complete the entire 140 Hour Program (taking time off for Holidays)
Module 5 is 40 hours of Actual Home Inspections (4 hours per home times 10 homes equals 40 hours)
Evenings are 6:00pm to 10:30pm, and Saturdays are typically 8am to 2pm
DATE CHANGES AS NEEDED TO OBSERVE HOLIDAYS
Module 5 Program 10 inspections on Saturdays from 8am - 5pm, which meets the 40 hour inspection requirement. Your time writing the report is in addition to the 40 hours spent in the field.
Students are to submit each Inspection report to the School for Review. This way, you improve your skill as you improve what is written on your report cards
Each Module 5 class an Saturday and/or Sunday - giving you the 40 hours required in weekend days.
The only concern is weather and the safety of students. Once licensed, you do not have to work for a company. You can, if you wish, or you can open your own company.
We ask each student to offer 2 homes (A MINIMUM OF 2 HOMES IS REQUESTED AS PART OF THE PROGRAM) To allow us to inspect each home as part of Module 5. We ask you for your assistance.
Once you finish Module 5, you will receive all of your NYS CERTIFIED/RAISED SEAL certificates within 2-3 weeks after Module 5 is successfully completed by student.
Upon completion of all 5 Modules, We include for our Students

Inspection program in writable pdf format and pre-inspection agreement written for NYS Home Inspectors (A $ 475.00 value!)

Home Inspector Yellow Pages Listing - up to 2 years listing (A $ 500 value)

North American Association Network Membership , up to 1 year (A $600 value)

InterNACHI Membership For 1 month at no charge ($)

National Professional Association Affiliation- minimum of 1 year (A $ 395.00 Value)

Test Question Prep to practice for State Exam-test ? thru InterNACHI and the Marcia Spada Manual (A $$ Value)

Housing Inspection Foundation - 1 YEAR (Save $ 250.00; Year One Only $ 60.00)

Association of Construction Inspectors - 1 YEAR (Save $ 250.00; Year One Only $ 60.00)
FREE 3 MONTH, 6 MONTH AND ONE YEAR BUSINESS PLAN - $ 1000.00 VALUE AND ABOVE! FOR STUDENTS AFTER THEY OBTAIN THEIR LICENSE-
SIMPLY CALL BILL MERRELL AT 61-563-7720- Advanced Report Writing Program $ 400.00- No fee for Module 1-5 Pre-Paid Students!

Save $$ Thousands $$ in Memberships, Web Listings, Books & Digital Materials that is included in our Program !
Why pay more at a school that needs to charge more to pay for hotel room seminars because they are not a physical school.
Many of these offers only occur when the student successfully completes All 5 Modules at our school
If you are asked to leave the program for disciplinary reasons, you are not entitled a refund for the classes you attended, including those you have not yet completed.
When Module 4 ends and Module 5 begins there will be a several week break. During this break, you can practice on your own home, a neighbors home or family members home. Once you have written the report, make an appointment with the school owner, Bill C. Merrell, Ph.D., and we will review your report with you in attendance and this will help you understand that all the materials you learned in Modules 1, 2, 3, and 4 and actually written in Module 5. Each one of these detailed reviews would cost upwards of $ 400.00. I offer this review free of charge but I cannot force a student to do the extra wok. We recommend it to get used to Module 5, but again cannot mandate you do extra report.
Many schools are known for turning a blind eye to actual learning and we do not do that. We teach you how to understand Home Inspecting. If you follow our instructions, expect to learn what you need to master the materials. You're responsible to study for each Exam and take the time to pass the NYS EXAM to become NYS Licensed.
2022 DISCOUNT PRICING SCHEDULE AS FOLLOWS:

Module 1: $ 495.00 individually plus $ 500.00 Book Fees

Module 2: $ 495.00 individually plus $ 500.00 Book Fees

Modules 1 + 2: $ 1150.00 including Module. 1 & 2 Book Fees

Module 3: $ 495.00 individually plus $ 500.00 Book Fees

Modules 1 + 2 + 3: $ 1400.00 including Book Fees for Module 1, 2 and 3

Module 4: 495.00 individually plus $ 500.00 Book Fees

Modules 1, 2, 3, + 4: $ 1495.00 including Book Fees (Multiple Books, Manuals and Forms) AS LONG AS YOU TAKE MODULE 5 WITH US

THE MODULE 1, 2, 3, 4, Bundle is $ 1495.00 with Module 5 an added $ 500.00-Once you attend the Advanced Report Writing Class, you are no longer

entitled to any refund even if you do not complete Module 5- The Work is up to you. You must work hard to achieve success

Modules 1, 2, 3, 4, and 5: $ 1,995.00 including Books, Manuals, etc. (Multiple Books, Manuals, Forms, pdf files, memberships, etc.)

This is our least expensive bundle offered for all 5 modules! which includes all added materials, added Advanced Report Writing Class.

We may charge additional fees for the Books you Received and Signed for in Module 1 if you do not finish the entire program.

The Discount applies to the last class attended and/or scheduled.

Module 5 alone is $ 1,400.00 including materials of $ 275.00

Module 5 is discounted to $ 500.00 as part of program Modules 1, 2, 3, 4, and 5 - (All these are Included With Modules 1,2, 3, 4 and 5) 7 PDF manuals, 1 manual for classroom operations and 2 Course Books.

Proctor will oversee your performance in Module 5, and same report will be graded by the school and a report card generated for each completed report to the extent necessary. Once you begin any class, you are not entitled to a refund of any amount. No Refunds permitted. If you enrolled in the $ 1,995.00 pre-paid package you understand that no refunds are permitted.

All students are to provide 2 homes to make Module 5 a success. In the event students do not provide homes, here will be a Module 5 delay.

RETAIL PRICE FOR OUR PROGRAM, IF YOU DO NOT REQUEST A BUNDLE IS IN EXCESS OF $ 3,700.00-Save Thousands with One of Our Bundles Listed Above!

Attendance Requirements as follows:

90% attendance required in each Module for Modules 1, 2, 3 and 4

100% attendance required in Module 5- We clock the time to make sure all students meet the 40 hour requirement
Questions?
call us at 631-563-7720 for further information. Fax with deposit to: 631-563-7719 or Mail to:
Merrell Institute 1461-16 Lakeland Ave, Bohemia, NY 11716
http://www.facebook.com/merrellinstitute
Need a NYS Application, Call NYS at 518-474-4429.
All the extras ONLY apply if you attend the entire program. (ALL 140 Hours)
- - - - - - - - - - - - - - - - - - - - - - - - - - - - - - - - - - - -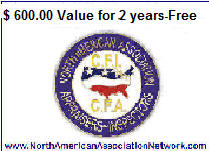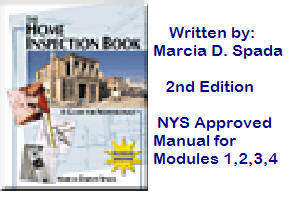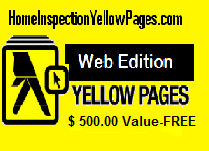 Program/Modules are NYS, Dept. of State approved! We are committed to the success of the Licensing Education program for Home Inspectors! Our programs are also approved by multiple Home Inspection organizations. Dr. Merrell is a participating member of ASTM International to assist in the development of Uniform Standards for Home Inspectors Nationwide. Additionally, Bill is a member of INTERNACHI's Education Committee and he serves as the National Education Chair for the Housing Inspection Foundation as well as Environmental Assessment Association. You must possess a High School Diploma, GED or it's equivalent. There are On-line High School Programs available for Mature Adults who want their High School Diploma.. You can also prep for the GED Exam through the following web site at: http://www.instantcert.com/gedhome.html Much Luck and success in your career.
WANT MORE INFORMATION ABOUT A CAREER IN HOME INSPECTION, Click Here !
http://www.merrellinstitute.com/homeinspectioncareerguide.htm
Once You Become a Home Inspector, you may consider Mold Inspection as well. Mold Assessment and Termite are separate licenses in NYS.
AFFILIATED ORGANIZATIONS THAT HAVE ENDORSED OUR PROGRAM- AND EACH WEB SITE:
Housing Inspection Foundation: www.hif-assoc.org
Environmental Assessment Association: www.eaa-assoc.org
Association of Construction Inspectors: www.aci-assoc.org
North American Association Network: www.northamericanassociationnetwork.com
National Professional Association www.nationalprofessionalassociation.org
NACHI/InterNACHI: www.nachi.org
---
---
Appraisal Education Network School & Merrell Institute
NYS approved our entire 140 hour program-Click here to sign up!
Steps to Become a NY State Home Inspector 631-563-7720
1
Determine if this is the right career for you. YOU NEED a 140 Hour NY State Approved Course
Many people come to us and they have never seen a home inspection performed. Crawling under homes may not be your idea of a fun day. Also, this business requires good people skills and the ability to sell yourself.
2
Set up your business properly. YOU NEED a 140 Hour NY State Approved Course
Decide the structure of your business; corporation, partnership, etc. with the help of a good small business accountant and attorney. Develop a relationship with your bank. Set-up good business practices early.
3
Research your marketplace. YOU NEED a 140 Hour NY State Approved Course
How many homes are sold in the area you will be serving? How many of those homes get inspected? How many other inspectors are in that area? What are the fees charged by your competition? Who are your potential clients?.
4
Create a business plan. YOU NEED a 140 Hour NY State Approved Course
Whether you have never been in business for yourself or are a seasoned veteran, the importance of a business plan is critical for success. By answering all the questions addressed in a working business plan you will create a road map for success.
5
Choose a market position. YOU NEED a 140 Hour NY State Approved Course
Too many companies simply copy the marketing messages of the competition. To get people to switch to your service you need to give them a fantastic reason to change. Do not sell your service simply based on price. Many standard market positions exist, such as, innovation, speed, experience, quality, etc. Make sure your chosen position fits your personality.
6
Choose a reporting system that fits your style and budget. YOU NEED a 140 Hour NY State Approved Course
The inspection report can be your biggest marketing tool and your largest expense. A wide variety of reporting methods are available today. Computers can assist you in report creation but can be a large up front expense. When considering the cost of your inspection report remember to factor in the time you or an assistant will spend behind the computer into the costs. Typical narrative reports cost between $5 and $60 to produce. On-site forms make delivery of your report when you complete the inspection easy. If you are computer phobic these on-site reporting forms may be the answer. Many inspectors select internet inspection products. others use checklists.
7
Be sure you understand the scope of the work. YOU NEED a 140 Hour NY State Approved Course
From the outside looking in, home inspection may appear to be an easy job. Well it's not! Understanding all the systems in a home and having the ability to recognize the red flags is an extremely complex task. The liability of inspecting a home without proper knowledge and training is tremendous. Choose your training with care. Compare the opportunities carefully. Not all are equal. Look for courses given at NY State licensed schools. Ask how long the course is and what materials are included. What is the cost of the program? What are the credentials of the instructors and the school? Will you be allowed to upgrade your training or return for additional training at discount prices?
8
Prepare yourself well for your new business. YOU NEED a 140 Hour NY State Approved Course
If you have never been in business before, then you might need additional training in specialized areas such as business management, accounting or public speaking. Remember that the better you prepare yourself for success the more likely success will come to you. We offer free Small Business Administration courses to help you here as well. Go to www.merrellinstitute.com then click on the Yellowpages box, then on Small Business Administration Courses. They are Free and we are pleased to make them available to you.
We are happy to send you a free brochure to help you get started in the home inspection business. For your free schedule simply download it from our web site or call us at 631-563-7720 and we will mail it to you. We can also send it to you via e-mail. E-mail us at merrelled@gmail.com
back to our main web site: www.merrellinstitute.com
New Construction Inspections...

---

When Building A Home....

Some Things Are Obvious...

But Some Things Are Not!
You need to know what level of repair a home is needed.
You need to learn from Expert Educators
You Need to Learn at the :
Merrell Institute and the
Appraisal Education Network School
Conveniently Located on Long Island
Most Repairs are NOT this simple to distinguish
Are You Ready for Success or Failure?
Are You Ready To Become Licensed?
call 631-563-7720 Don't Wait! Sign Up NOW!